I know that when I first entered the hobby, the first thing that I wanted to do was breed fish! It is of course excellent fun and can also get you a little bit of money. My lfs often swaps me my platys for other fish that I'd like. So ive decided to make a topic where people can put in the suggestions of breeding techniques in live bearers for everyone to see. There is no proper way of breeding them, this is just a list of ways which have worked well for me.
Things to buy:
A spawning trap
Two fish (duh)
Brine shrimp.
Picking your fish:
Pick 1 male for 2-3 females. If you have limited tank space, 1 male for 1 female should be fine but if the male is to aggressive, get more females or swap the male. Try to pick males and females that have the same colour pattern but they don't need to be the same. Obviously don't try to mate a platy and a guppy together. Pick a healthy looking male, with good size and just generally looks healthy. To distinguish a male and a female look at the pictures below: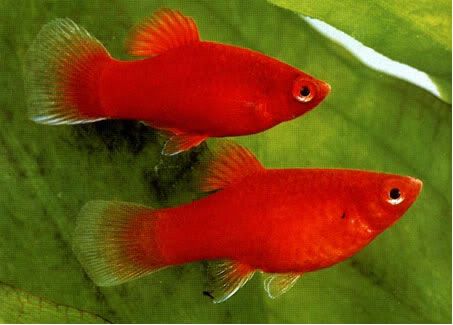 The top fish is a male and the bottom fish is a female. If you look closely at the left bottom fin on the female, you will see that it is a proper fin. If you look at the male fish in the same place, you will notice that the fin isn't there but is in fact a pointed fin. It is known as a 'modified anal fin'. So that's how you distinguish them. IF you are buying fish with a mixture of genders in the same tank, then try to pick 2 fish which look as if they are mates. Also try to pick one which is already pregnant. You can usually tell because she will be a lot fatter by the anal fin and will have a dark spot.
Breeding them:
After three or so weeks of having the fish, they should be getting ready to spawn.-- DO NOT WORRY IF THEY HAVEN'T!!!! It does not mean that they are ill, it just means that they are either not ready to or the male isn't really courting her. Just be patient. -- Either put the female in the breeding trap if she looks ready to spawn (about to burst
!). If I am honest, I have tried to put my platy in the breeding trap but she has never spawned in there. I just dont think that she likes it. So what I do is I wait until she has spawned (She will do it when the light comes on in the morning) and try to net the little fry and put them into the breeding trap. If you don't want to do this, try putting java moss in the tank for the little fry to hide in as THE PARENTS WILL EAT THEIR OWN FRY. If you only have 1 fry the first time, do not worry as the others may just have been eaten or she may have only spawned one. I hear people say that they can spawn 40 fry, but this isn't always the case. The most my platy has ever spawned is 5.
What do I feed them?!!
I feed my fry frozen brine shrimp. for the first 5 days, get one brine shrimp and crush it until it is in a paste and then drop it in for the little fry. If they do not eat, do not worry. My fry do not tend to eat for the first 3 days or so. The fry will really like the brine shrimp because it is very good for them as it has a high protein and fat content which speeds up there growth. Remove any food which is getting algae on it as it will just rot.
Some more tips:
If you are going to use the java moss method, do not get fish which are very keen to eat anything. They will eat your fry.
You can remove your fry from the breeding trap when they are about 1 1/2 cm long. They wont get eaten then unless you have a really mean fish in your tank.
Check out the advice below for other tips and tricks that other people suggest as everyone has a way which works best for them! Try a range of techniques that work best for you.
GOOD LUCK